Unsaturated Fats
The Right Fats for Health
Quotes related to unsaturated fats ...
"Never trust a skinny cook"
- Iain Hewitson (Australian Celebrity Cook)
"Never trust a fat dietitian"
- Anonymous
Give Saturated Fats a Miss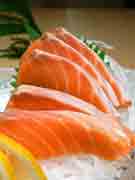 While unsaturated fats are good for your health, saturated fats are really not good for you. These saturated fats are present in meat and dairy products and also in sweet goods such as pastries. Too many of these fats can increase cholesterol drastically. To make sure you are not indulging in too much unhealthy fat, learn to read and interpret ate the label of contents.
According to the UK Food Standards Agency (FSA), people are generally eating more than 20 percent over the recommended maximum amount. Because of this the UK Government has initiated the Less Sat Fat Campaign at http://eatwell.gov.uk. This site includes tips for decreasing consumption of saturated fats, which are also referred to as 'sat fats' or 'saturates'.
Essential Fatty Acids, by contrast, are ...well essential!
By contrast unsaturated fat and essential fatty acids are vital to our health, may reduce cholesterol and improve brainpower. These unsaturated fats can be found in vegetable oils, avocados, nuts and seeds. Fish, especially oily fish, is the most valuable source of saturated fats and the best way of getting the right balance of Omega-3, 6 and 9 fatty acids.
Tinned fish is not so rich in essential fatty acids, as much of their goodness is eliminated during processing. To make sure that you still get some of these vital fats from tinned fish, avoid buying tinned fish that is preserved in oil and rather choose fish that is preserved in brine or spring water. Sunflower oil, in particular, tends to block our receptors for Omega 3.
Fatty Fish is Good for the Brain
Cognitive function is best stimulated by essential fatty acids called Alpha-Linolenic Acid (ALA) that are found in fish fats. Alpha-Linolenic Acid (ALA) is a substitute for vegetarians that is found in flaxseed but this is not as good for the body and brain as DHA.
Westerners tend to consume too little Omega 3 and too much Omega 6, which is found in vegetable oil. For those who don't like fresh fish, taking a supplement might be a good alternative. Look for the ration symbol (2:1:1) on labels, which means two parts of Omega 3 to one of Omega 6 and one of Omega 9. Nutritionists recommend a product such as Omega 3-6-9, which is a great choice or suggest Udo's Choice Ultimate Blend Oil that is suitable for vegetarians.

(Source: Easy Living Magazine)

---

Top of Unsaturated Fats Back to Age-well.org
TOP of unsaturated-fats
BACK to age-well.org