DASH Diet Mealplan
Planning Your Menus
---
age-well.org > eat well > DASH diet meal-plan
---
Aiming for a balanced diet
A little planning can go a long way. Once you decide to follow the DASH Diet Mealplan, if you plan your meals for the entire week, it will save you a great deal of time and enable you to eat well. It will also prevent unnecessary trips to the supermarket, where you might be tempted to make unwise choices, especially if you are hungry when you shop and have a tendency to impulse buy.
To optimise your chances of sticking with the DASH Diet Mealplan, purchase only healthy foods, like whole-grain or multi-grain bread and pasta, lean meats and oily fish, low fat dairy products, so that when you plan your menus you aren't tempted to add other dishes into your repertoire.
Find out on what day the fish arrives in your local supermarket and plan to shop and cook your fish meal on that day - so that it is always as fresh as possible. Other fish meals can use frozen fish if you live far from the coast.
If you buy your main shop on one day of the week, you can pick up fresh salads, fruit and vegetables at an outdoor market during the rest of the week, which is a very cost effective and healthy way to shop as well as being great fun.
The DASH Diet Mealplan contains the following foodstuffs
TYPES OF FOOD

 

Number of servings for 1600 - 3100 Calorie diets

Servings on a 2000 Calorie diet

Grains and grain products
(include at least 3 whole grain foods each day)

 

6 - 12

 

7 - 8

Fruits

4 - 6

4 - 5

Vegetables

4 - 6

4 - 5

Low fat or non fat dairy products

2 - 4

2 - 3

Lean meats, fish, poultry

1.5 – 2.5

2 or less

Nuts, seeds and legumes

3 – 6 per week

4 – 5 per week

Fats and sweets

2 - 4

limited

 

 

 
Some forward thinking strategies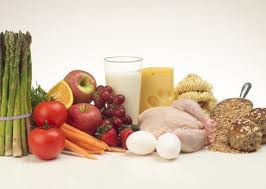 Planning healthy meals for the entire week can help you plan a balanced and save you having to figure out a menu from a variety of products in your fridge when you are tired or rushed. Although it may take a few weeks to really get the hang of planning the DASH Diet Meal plan an entire week in advance, over time it will become child's play.
My sister has a good tip - when the weather is bad she stays home all day and has a cook in. She cooks in bulk and then freezes small portions and larger portions for when she is entertaining of healthy, tasty meals. That way, as she is a busy person, she spends less time cooking on days when she is busy. And when she is not busy she optimizes her free time, by not having to go shopping or cook.
On the first day of your DASH Diet Mealplan, go through the fridge and freezer, making a list of meats, cheeses, fruits and vegetables that need to be used up and what needs to be bought.
Plan the first healthy meal of your week using items that are available and need to be used up.
Plan each subsequent meal so that you are not wasting food or time and energy. Try to cook meals which can be used on two or more occasions. For example use fresh vegetables to make a soup that can be used twice or three times during the week. The first time you eat it as it comes. Separate the remainder into two separate pots or plastic containers. The second time you eat the soup add spices or herbs or spoon in several tea-spoons of pesto to make an impromptu "Soup au Pistou". The third time liquidize the vegetables to give the soup a different texture. To ring the changes you can alternatively add another vegetable to the mixture, or throw in some barley or lentils. If you add barley and tiny pieces of raw beef to the soup it will make a magnificent "Soup de Grisons", or you can add some grated cheese and stick the soup in the oven to melt it before serving. You can also add some cottage cheese, greek yogourt or cottage cheese to your soup, sprinkle with parsley, coriander or other fresh herbs or sprinkle on nuts or seeds. There are all sorts of variations on this theme.
When you buy meat, choose something that can be used twice - once it can be served hot and on another day when you are pressed for time you can incorporate it in a salad.
Get your five a day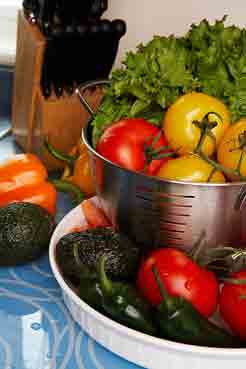 Getting your five a day is all part of the DASH Diet Meal plan. Mix up your fruits and vegetables so that over the course of the week you are getting an assortment of vitamins and nutrients from them.
Keep salad ingredients available at all times. A salad can be a meal in itself by adding cheese, fish, meat or any protein and makes an ideal side dish for any other meal.
The ingredients also come in handy for making pasta sauce or with other recipes.
Rice or pasta can be cooked in advance and added to your salad.
Hard boiled eggs can also be prepared in advance and added to salads as much needed protein. My eldest daughter, who is a busy mother of three prepares egg-salad using a light mayonnaise and keeps this in the fridge to make sure she always has a protein-rich snack in the fridge to make a quick sandwich when she is pressed for time. Tuna-salad can also be prepered in this way. Homemade humous is a very nutritious snack which can be spread on toast or used instead of butter when making a sandwich.
It can be hard to plan your meals ahead, but it is very important when you are watching what you eat.

---
Health Benefits of Olive Oil
Olive oil is one of the ingredients recommended for your DASH Diet Mealplan. Check out the above link, it is even healthier to buy your olive oil directly from the farmer and this is a reliable source of first grade olive oil.

These are some of its benefits:

1. lowers cholesterol
2. reduces blood pressure
3. controls minor pain
4. helps the body maintain a lower weight
5. helps people with type 2 diabetes
6. helps prevent cardiovascular disease
7. reduces the incidence of colon and skin and breast cancers
8. helps people with cirrhosis of the liver
9.aids in the prevention of kidney stones and gall stones
10. and can be used in skin and hair remedies
(Source:www.oliveoilfarmer.com)
---
age-well.org > eat well > DASH diet mealplan
---
TOP DASH Diet Mealplan
BACK to DASH-diet
HOME to Age-well

---