The Benefits of a Warm Bath
Bathe Away Stress
by Jane Arnaud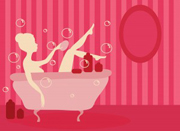 The bliss of relaxing in a perfumed, warm bath are easy to imagine!!!
As soon as the alarm clock rudely cuts short the end of a dream, and your eyes blearily face the bright light of the day, along too come the stresses of everyday life. Throughout the day most of us are faced with frustrating situations, whether they occur during the rush hour commute to work, a colleague letting us down at the last minute, or the trials of everyday family life.
The Japanese Onsen
It has been said that a warm bath before bed helps us to sleep better, but what about the benefits of a long soak in warm water to help us de-stress?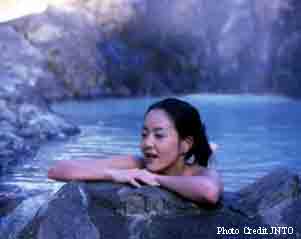 The Japanese love their baths. I have a Japanese friend who swears by a warm bath before bed, not specifically to aid sleep but to 'wash away the stresses of the day', which I suppose, in turn, can only help to prevent insomnia.
As a volcanic island, Japan has a number of natural 'Onsens'. These are naturally formed warm springs. A cocktail of beneficial minerals are said to provide health benefits.


However, not all of us are able to pop over to Japan to experience an Onsen, and our bathrooms may be slightly less exotic, but the results can be just as beneficial.

With so many relaxation bath products on the market all it takes is a tub of warm water, a splash of essential oils or bubble bath, and half an hour in the evening. You may like to light some candles, play some soft background music or simply lie back, close your eyes and enjoy the warm water and the sound of silence.

I find that if the bath is too hot, I quickly take on the traits of a driver whose car has broken down in the Sahara, without water, and desperately seeking an oasis. Ironically, with all that water in the bath I would recommend on having a glass of cold water nearby, just in case. Alternatively, ensure that the bath is not of volcanic temperatures!
An added luxury is a bath pillow. These can be found in most chemists or department stores, and can aid the relaxation process. However, if stress-less heaven is still eluding you, and you are still mulling over why the washing machine leaked, or when the dog next door will be run over and stop yapping, a rubber duck cannot fail to bring a smile to your face.
---
Back to Stress and How to Cope with it.
TOP of Benefits of a Warm Bath
Return to Age-well