Walking
Get Fit - Reduce Stress
By Jane Arnaud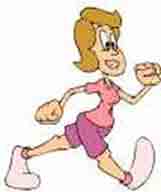 It is something most of us do a lot of. From the moment we get up we are walking to the bathroom, to the bus stop, to the water cooler, to take the rubbish out, to the post box, and back again. But whilst we are running errands, how many of us are enjoying the journey?
It's free; there's no congestion charge or tax on sensible shoes! whether you live in a city or in the middle of nowhere there is somewhere to walk to, and then back again.
Not only are you getting fresh air, and a little exercise but you are also away from everyday distractions, especially if you leave your mobile phone at home.
Many Different Types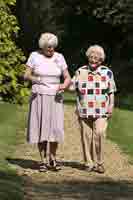 A walk doesn't have to be miles and miles, it can be as little as ten minutes around the neighbourhood. It is a chance to think, reflect, and relax. You may notice things that you see every day, or see things in a new way. You can take your time whilst others rush to their destinations. This in itself will make you feel good, and remind you that you are in it for the experience itself, and not to a particular destination.
In our fast paced lives there are often few opportunities to take time out alone to resolve a problem without external influences. Going alone can give you that time. You can listen to your own judgement and return with a solution, as well as having burnt off a few calories.
Power Walking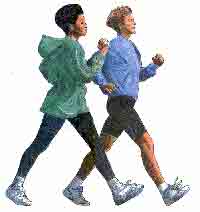 This sporting activity takes the calorie burning up to the next level. Increasing the pace at which you move, but not quite reaching a jog means you are getting more of a workout than a leisurely stroll can offer. This will certainly raise endorphin levels, and if you are new to exercising at this level any stress you may have left the house with may initially be replaced with fatigue! Perhaps varying this activity with strolling would be the best idea for beginners.
Nordic Walking
Nordic Walking is a specific technique which should not to be confused with trekking, hill walking or trail running. It can be done by anybody, anywhere and does not require expensive equipment or clothing, with the exception of the poles, as The poles used for this activity have a specific hand-strap which is specific to the sport and allows practitioners to get the full benefit from this exercise. Indeed the wrong type or size of poles can result in discomfort or even injury.
Nordic Walking uses poles to in order to turn this sport into a full body experience as the upper body muscles are used as well as the legs. The poles help to propel the participant along – and thus he/she works harder than usual, yet the support given by the poles makes the person engaged in this sport think it is easier.
It is really important to take a few lessons with a trainer who is trained to teach the correct technique and tailor it to your fitness requirements.
Besides being an affordable sport for individuals of any physical level, this activity is used by doctors, physiotherapists, health clubs and personal trainers and is rapidly becoming the fastest growing fitness technique in the world.
The correct technique ensures the whole body works efficiently and that the participants get the most health benefits out of the spirt while having fun.

The Right Clothing is Essential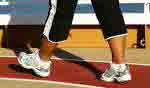 Whatever the pace you choose, it's important to remember to wear the right clothing, in particular proper shoes or trainers.
If you are new to the more strenuous varieties, it may be sensible to join a local group, not only will you learn the correct posture, and techniques, but you will also meet like minded people.
Having mastered a stroll around the block, and powered across the city, you may be ready to vary your activities further; a holiday which incorporates this activity could be the answer.

Whether you choose hiking in the hills, the Nordic or Power variety, or hiking in the Himalayas the benefits will be both physically and mentally rewarding. Not only will you learn a new skill, you will also be taking time out; overall, a great way to combat stress. But remember, whilst you pore over holiday brochures, don't forget that someone has to take the dog out!
---
Back to Stress
TOP of Benefits of Walking
HOME to Age-well

---