Selenium
By Jennifer Sofia Catalano

What is Selenium?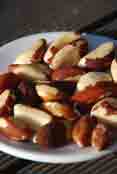 Selenium is a micronutrient, present in most plant and animal food which has been grown in soil which is rich in this mineral. The human body requires tiny particles of this micronutrient to create antioxidant enzymes which protect against damage of cells by free radicals. and it is also known to improve the immune system. Some people call it the anti-cancer nutrient, but more research is needed to confirm and explain exactly how this works,
How much should we take?
The Recommended Daily Amount for adults which has been published in the U.S. is 55 micrograms (mcg) per day but this can change per country up to 200 mcg per day. Because this mineral is highly toxic, it is important to also be aware of the Upper tolerable Level (UL) of 400 mcg per day, so as to avoid overdose.
Who is at risk of deficiency?
Deficiency of this micronutrient is so rare in populations living in areas of the world where the soil is rich in this mineral (e.g western USA), that it is only extreme cases, for example; patients being fed artificially, or over 90 years old who may require supplements. However for areas of the world like China, which are known to have very low levels in the soil, the population is at risk and children with deficiency can indeed suffer from several growth related disabilities.
What are the benefits?
What are the risks of deficiency?
Research into the specific action of selenium on different illnesses is varied and there is much contradiction in different studies, however there are some specific associations between this micronutrient and cancer, diabetes, heart disease and arthritis, which are of particular scientific interest and focus.
Cancer
Selenium is believed to prevent tumors and cancerous cells from reproducing by blocking free radical cell growth. It also supposedly helps chemotherapy to be more effective. It has been noted that cancer sufferers with high levels had lower mortality rates. However, many studies have not managed to replicate the findings and there is a suspicion that too high levels could actually favour skin cancer..
Diabetes
This micronutrient also has a strong association with diabetes since it interferes with insulin signals, and is believed to aid prevention and treatment of diabetes however high doses may actually increase type 2 diabetes.
Heart Disease
Due to its antioxidant properties, selenium should theoretically be a strong ally in preventing cardiovascular diseases, however no study has yet proved this relationship.
Arthritis
People with osteoarthritis have been reported as having very low levels of this micronutrient, but more research is needed to pin down the exact cause and influence relationship.
Other reported benefits

HIV /AIDS.
Alzheimer's disease.
Epilepsy in children
Mental fatigue and anxiety in adults.
What are the Symptoms of Overdose?
This micronutrient is toxic and therefore an overdose can be fatal, and requires medical intervention. This can occur because of a diet too rich in the substance or because of a single overdose. Treatment can be via stomach pumping and/or control of the symptoms. Below are some of the symptoms which have been reported with overdose or selenosis.
"Garlic" breath odor,
Loss of hair, brittle nails,
Abdominal pain, nausea, vomiting, diarrhea,
White, horizontal streaking or blotches of the fingernails ,
Fatigue, irritability,
Neurological problems.
What food contains this Micronutrient?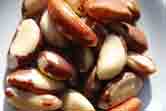 Brazil nuts are the single most selenium rich food in the world. In areas of the world, where the soil is rich in this mineral, it is found in meat (especially kidney, liver, and poultry), vegetables (especially garlic, onions, broccoi), eggs, mushrooms and other nuts and cereals (walnuts, sunflower seeds, wheat). Processed foods have has often been stripped of this mineral, so it is better to obtain it through organic, wholemeal foods. It is generally also present in seafood (tuna, crab and lobster especially).
Since the variation of this mineral in the soil varies so significantly worldwide, there is not one standard table of foods sources and selenium count which we can offer universally but rather each country has its own research in the matter. To quote authors Anna keck and John Finlay's research on "MIneral Utilization and Bio-Availability in the 21st Century, with Changing Diets and Agricultural Practices"
"….for example a 100g serving of pasta made in the US would supply more than 100% of the Recommended Daily Allowance, whereas the same serving of pasta made in Italy would supply less than 10%."
If you are living in the United States, then you can consult the site of the Agricultural Research Service (ARS) for a breakdown of the presence of this mineral in specific foods. Alternatively, you can copy and paste this link into your browser:- http://ods.od.nih.gov/factsheets/selenium.asp"
Sources
http://www.vitamins-nutrition.org/vitamins/selenium.html
http://aids.emedtv.com/selenium/selenium-drug-interactions.html
http://www.nutritional-supplement-guides.com/Benefits-of-Selenium.html
http://en.wikipedia.org/wiki/Selenium
http://www.ars.usda.gov/research/publications/Publications.htm?seq_no_115=166136
http://www.naturalnews.com/016446.html
http://longevity.about.com/od/lifelongnutrition/a/selenium.htm
http://www.medterms.com/script/main/art.asp?articlekey=39069

---