Enlarged Prostate Gland
Prostate Treatments Using Natural Remedies
---
age-well.org > age-well.org > age related diseases > enlarged prostate
---
by Tom Chua, R. Pharm.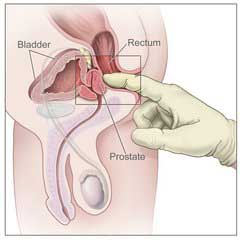 An enlarged prostate, also referred to as benign prostatic hyperplasia or BPH for short, is a non-cancerous growth of the prostate gland affecting men.
By enlarging, it squeezes the urethra, a tube that carries urine from the urinary bladder to the outside. This will make it very difficult to urinate.
An enlarged prostate pressing on the bladder and urethra can cause great discomfort, making the need to urinate painful and at the same time making urination difficult.
BPH usually affects men over the age of 50 years old and it is estimated that over 40% of men over the age of 70 are affected by this problem. Eventually 10% of men suffering form BPH will require some form of treatment for this condition.
BPH is not cancerous so it does not spread. However, men suffering from an enlarged prostate are at risk of developing prostate cancer at a later time.
Symptoms of an Enlarged Prostate Gland
Common signs and symptoms that appear include:
The need to urinate frequently
Trouble in starting or stopping urination
A sense of urgency to urinate
Unable to empty the bladder completely
Presence of blood in urine
Weak urine stream
Feeling the need to use pressure to start urination
Discomfort in the groin area
Burning feeling during urination or fever, both a sign of a bladder infection
What Causes Prostate Enlargement?
The hormone balance in the body changes as men age. The prostate gland responds to these changes by growing. Experts also believe that possible deficiencies in vitamins and minerals (such as zinc) may play a part.
Genetic factors are also known to be responsible for causing the gland to enlarge. For example, population studies show that the Caucasians are more likely to suffer from BPH than the Asians.
Top Five Natural Remedies
Saw Palmetto – This herb is extensively studied for treating an enlarged prostate gland. It has proven ability to shrink the gland and bring relief to many men suffering from BPH.
Beta-sitosterol – This is a plant sterol that is suggested by experts for treating BPH. Clinical studies show that beta-sitosterol can give good relief to symptoms commonly found in men suffering from BPH.
Pygeum – This herb is commonly used in European countries to help reduce swelling of the prostate gland as well as block growth factors that induce the growth of prostate cells.
Rye Pollen – Just like pygeum, rye pollen also has scientific evidence to support its claims of shrinking the gland.
Zinc – Of all the minerals our body need, zinc is directly associated with prostate health. A low level of zinc is suspected to worsen the condition. Zinc supplements have been shown to shrink an enlarged gland. Avoid deficiency by taking zinc supplements. Most multi-vitamins have enough zinc for most men.
Useful Resources
A complete list of natural remedies that can be used to treat BPH is found in this article on the treatment of an enlarged gland

Natural Remedies Review provides unbiased and comprehensive reviews of natural remedies including the benefits, side effects and the dose to use to treat various health problems.

If you are interested in more about prostate health or men's health items or you have prostate health questions you may visit this site to have an answer to your health concerns.

News About Prostrate Cancer
---
age-well.org > age-well.org > age related diseases > enlarged prostate
---
Top of Enlarged Prostate
HOME to Age-well
---