Living on Purpose
Why Retiring is Becoming
An Outdated Concept
By G. Richard Ambrosius
---
age-well.org > self development > living on purpose
---
The Need for Purpose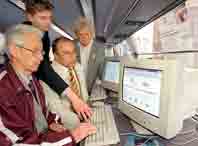 The act of "retiring" can be a profound threat to one's aging self esteem and may even have a negative influence on future direction and life satisfaction. When one's former role, title, and position are lost, the opportunity for challenge and life satisfaction can begin to erode along with one's feeling of purpose. This is as true for a stay-at-home mom now living in an empty nest as it is for a professional, manager, supervisor or skilled worker.
The dictionary defines 'purpose' as "the reason for which something exists or is done, made, used, etc…an intended or desired result; end; aim; goal." To lose purpose can be devastating and is a contributing factor to premature aging. Purpose in life is achieved by deriving meaning from life experiences. It involves possessing a sense of intentionality and goal directedness as a means of guiding behavior. It also could be the key to lowering health care costs and improving the quality of life for older adults.
Baby-boomers Boomerang
In the next 10 years, thousands of leading edge baby boomers will pursue purpose by seeking employment. Wise company executives will capitalize on this new reality. Rather than worrying about the rising average age of their work force, the wise will tap this fountain of wisdom and experience never before available.
The Over-qualified Paradox
All too often, older applicants are not considered because they are "over qualified." The statement has always presented a paradox. If a job candidate is willing to accept a position for the stated salary, wouldn't an excess of experience be beneficial to the hiring company? Because businesses have little or no understanding of later life values they fail to consider that, to the older worker, pursuing purpose may be even more important than the salary and title.
Outdated Perceptions of Aging
Outdated perceptions are not just building barriers in the workplace. All too many aging adults have exaggerated concerns regarding appearance, peak performance and memory that can begin to color their attitudes toward themselves and their personal value. Like employers, older workers often mindlessly accept the negative stereotypes and perceptions of aging as a time of decline. These beliefs about aging and "retirement" then become self-fulfilling prophecies leading to premature aging and dependency.
Wasted Potential
With the current state of the economy, businesses now have their choice of workers and do not see a need to even consider older workers. They perceive there is more value in hiring younger workers for less money, but fail to consider the added value that decades of wisdom and experience bring to the table. This attitude could backfire as the number of younger workers continues to decline over the next 15 years. The new consumer majority of age 65 plus adults is growing at a rate of 7,918 a day. These healthy, active and involved consumers are increasingly unwilling to accept second-class citizenship in the category of "retired or used to be." They are seeking new and innovative ways to counter ageism and redefine later life as a time of growth and personal development. Today's older adults increasingly view life's third stage as a time for growth and enrichment, rather than one of decline and loss.
The Role of Docent
In other times and cultures, elders were the means by which younger community members learned how to age successfully. They were the storytellers and wisdom-keepers. Elders served as docents – informed tour guides – on living with integrity and purpose. With the advent of the industrial revolution, older adults came to be viewed as unproductive and disposable as indicated by mandatory retirement policies that dominated every sector of the economy. Thankfully, this era is waning.
An Outdated Concept?
"Retirement" is becoming an outdated concept and later life viewed as just another stage of life where one continues to pursue purpose with encore careers, volunteering, and otherwise seeking meaningful service. Reaching one's 60's is no longer viewed as an end to productive life and the start of physical and mental decline, but as a new beginning. According to research, older adults now pursuing a positive life plan and choosing an active social life are already living up to 8 years longer than those who do not.
Don't Stop Dreaming
As John Barrymore once said, "No one becomes old until regrets take the place of dreams." Regrets generally result from unfulfilled aspirations which people think they should have accomplished earlier in life. By mindfully pursuing a lifetime of positive aging, later life will come to be perceived as the crown jewel of the human experience as both businesses and individuals recognize the importance purpose plays throughout life.
---
age-well.org > self development > living on purpose
---
Ambrosius is Vice President of Outreach and Group Programs for NeoCORTA, as Washington, D.C. based Brain Fitness Company. He is also the founder and principal of Positive Aging®, a national professional speaking, training and consulting firm. For more information, email ambro@positiveaging.com or visit www.positiveaging.com.
---
Top of Living on Purpose Back to age-well.org
---