Antiaging Skincare Products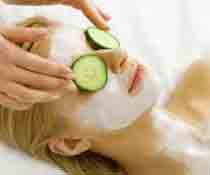 Antiaging skincare products are often very expensive and you do not always get value for money. Some of them contain ingredients which plump up the skin, eliminating wrinkles or making them look less deep, but their effects are short lived and they do nothing to repair the aging damage caused by exposure to the sun and other elements.
Worse still, antiaging skincare products often contain substances which are harmful to the skin. Then there are also some very expensive products that do contain ingredients which are very good for the skin, but in such low doses, that they virtually have no effect. When looking for antiaging skincare products, always read the ingredients carefully. This page will give you some tips on what to look for and also eventually recommend some anti-aging skincare products containing the recommended ingredients, with none of the harmful substances.
Here are some ingredients to avoid:
Mineral Oil: Avoid products which include mineral oil, also called liquid paraffin, paraffin wax or petrolatum as they clog pores, leading to acne breakouts and prevent the skin from breathing and eliminating toxins, leading to premature aging.
Fragrances: should also be avoided as they can also be produced from ingredients which are toxic to the skin,
Dioxane: (a synthetic derivative of coconut) is suspected of being carcinogenic if used in high concentrations.
Parabens: methyl, propyl, butyl, and ethyl paraben are widely used in skin care products, but are also potentially harmful, causing allergic reactions, and even increasing the risk of skin cancer.
Alcohols: ethanol, ethyl alcohol, methanol, benzyl alcohol, isopropyl alcohol and SD alcohol dry the skin, and can cause skin irritation. By destroying the skin's natural protective acid layer they leave it vulnerable to all sorts of skin diseases.

What causes our skin to wrinkle and sag?
The biggest reason our skin, whether on the face or the rest of the body, develops lines and/or starts to sag, is that the collagen and elastin in our skin begins to break down.
Collagen is a protein that provides firmness to the skin. As aging causes the collagen to break down, the skin starts to sag and wrinkle.
Elastin, too, is a protein that helps skin stay "flexible" and firm. If your skin is stretched, elastin is the protein that helps it return to its original position.
Therefore, if you want to look younger you need to look for antiaging skincare products that contain a high proportion of active ingredients which stimulate your body's collagen and elastin production.
Collagen applied topically will not help, as the molecules are too large to be absorbed, so it is more important to purchase products which contain ingredients which stimulate our body to produce more collagen.
Here are some ingredients to look for:
Phytessence Wakame
Phytessence Wakame is an exotic kelp, native to the Japanese Sea. It works by blocking hyaluronidase, a harmful enzyme that breaks down hyaluronic acid in your skin. Without hyaluronic acid, the elastin and collagen fibres lose their "glue," which leads to a loss of youthful appearance and dark circles around the eyes."Hyaluronan is also a major component of skin, where it is involved in tissue repair[M1] ."
Cynergy TK
Cynergy TK is an exciting, cutting edge substance which stimulates your own collagen and elastin to grow, promoting firmness and elasticity, fewer wrinkles, and more youthful, healthier looking skin. It may also help improve your skin's ability to retain its natural moisture.
Nano-Lipobelle H-EQ10
A lot of skin damage and aging comes from the effects of free radicals on our body's cells. CoQ10 is a powerful antioxidant, which can counter these free radicals before damage occurs.
Unfortunately, like many other vital substances, as we age, the amount of CoQ10 in our bodies becomes depleted.
AlthoughCoQ10 is a great ingredient, not all forms are equal. One in particular stands head and shoulders above the rest. This version of it is called Nano-Lipobelle H-EQ10. It penetrates far down into the skin, thereby providing much greater benefits for skin health. In fact, according to Nano-Lipobelle H-EQ10 can penetrate down 7 layers deep into the skin, eliminating free radicals, and also promoting collagen and elastin production.

There are a number of excellent products on the market, so our advice is to research products thoroughly and talk it over with your dermatologist before investing in large sums of money in a skincare range you know nothing about.
Knowing why skin ages can be half the battle in combatting aging skin. Learn about main factors of skin aging to decide what you can do to slow down the aging process.
---
Top of Anti-aging Skincare
Back To Age-well.org
---