"Aloe Vera Detox Program "
Lose Weight With Aloe Vera
This Aloe vera detox can be used on its own as a one off detox, which can be used twice a year, or as part of a two way system, kick-starting your weight loss program. It can be followed after nine days by the Aloe Vera Nutri Lean System.
With the Aloe vera detox Program



Detox, Cleanse and Lose Weight
in 9 Days... or your money back!
Are you tired of fad diets where you lose
weight only to pile it back on again?
The problem: The majority of weight loss programs cause nutritional deficiency, which leads to food cravings, undermines the immune system and causes the body to store fat.
The solution: A nutritional cleansing program that provides optimum nutrition delivering a safe and healthy weight loss program.
ALL IN JUST 9 DAYS!

Start TODAY and see better results than other weight loss programs – 100% Guaranteed, or your money back!
The Forever Aloe Vera "Clean 9" and "Nutri-Lean™ Program" has helped many people lose weight and keep it off and these programs are the most popular Forever products after the Aloe Vera drinks, which have consistently been the most popular in the thirty years the company has operated.
When you're serious about losing weight the first step is to detoxify your body. This is critical to the success of your endeavor to lose weight and keep it off.
There is no easy road to weight loss, according to the Forever literature which stresses that reaching and maintaining your desired weight is a lifetime battle. It start with an initial effort, such as detoxifying your body with a product such as Clean 9 Aloe vera detox program. However, even more important will be the motivation you will need to change your lifestyle and habits so that losing weight will be a successful endeavor and eating healthily will become second nature.
Commitment, Control and Compliance
The Specialists at Forever emphasize that, In order to be successful in this program, you must apply the 3 "C's" that is Commitment, Control and Compliance
This program is all about lifestyle change and it not just another diet. In order to be sucessful you will have to be prepared to change the way you live your life forever. This long-term healthy approach must be a lifetime effort if you are to get the ultimate results. It is all about what we eat and how we treat our bodies and really echoes the advice in age-well.org. The only difference is that Forever add in some products to help you achieve your long-term goals.
---
"Clean 9 DETOX with Aloe Vera Juice"



"Clean 9 DETOX"

Clean 9 Aloe vera detox is a 9-day nutritional cleansing program that is specifically designed to cleanse your body of unnatural chemicals that are absorbed every day from foods and the environment. During this process, it helps burn off excess fat both safely and effectively.

This is a complete cleansing and detox programme for a cleaner, leaner, healthier you!

Clean 9 Aloe vera detox will provide you with the tools you need for effective weight loss in a healthy and natural way. It's also designed to give you a deep understanding of how to live your life free of yo-yo dieting, unhealthy eating practices and other nutritional and fitness myths.

Clean 9 can help you achieve a realistic balance for a healthy lifestyle.



The Clean 9 Aloe vera detox is the critical initial step. This easy-to-follow program will provide you with the necessary tools to help you cleanse your system and take control of your health. Clean 9 Aloe vera detox includes: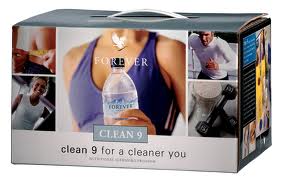 Aloe Vera Gel (three 1-liter juice bottles)
Ultra Lite Meal Replacement Shake Mix (1 Shake mix)
Garcinia Plus (70 softgels)
Bee Pollen (100 tablets)
Shaker
Tape Measurer
Aloe Vera Gel
Aloe Vera Gel contains essential amino acids which the body can't manufacture by itself. Aloe Vera gel has the ability to gently break down, loosen and assist in the natural dispersal of plaque that are built up in the digestive system. In addition to aloe vera gel's natural detoxifying and bowel regulation abilities, it helps with increased protein absorption and decreases unfriendly bowel bacteria and yeast.
Forever Lite
These nutritional vanilla shakes are also a key ingredient in making this cleanse a success. Much of the leading health and dietary research has supported that a protein and low-carb diet can build and create a lean and healthy body. Forever Lite is an effective meal-replacement shake that provides the perfect balance of protein & carbs and tastes great!
Forever Bee Pollen
Bee pollen contains trace amounts of easily absorbed vitamins C, D, E, K, betacarotene (vitamin A), B complex, minerals, enzymes, cornzymes, plant-source fatty acids (which are good for you), carbohydrates (the good kind), proteins and 22 amino acids (including all eight essential acids). A boost to energy and stamina, Forever Bee Pollen can assist in maintaining a healthy circulatory, digestive, immune, and nervous system*.
Warning: Test a small amount of Bee Pollen (1/4 tablet) to ensure no allergic reaction and then gradually increase daily intake. Consult your physician before taking this or any other nutritional supplement.
Garcinia Plus
The garcinia cambogia fruit contains Hydroxycitirc Acid (HCA), a compound which has been shown to reduce the body's conversion of carbohydrates into fats. HCA also acts as a natural appetite suppressant. Garcinia is most effective when used in conjunction with a low-calorie diet.

A Complete Weight Loss System
The Clean 9 Nutritional Cleansing Program is a complete weight management system. Not only does it give you all the nutritional products you need, but it also provides you with the specific steps to complete the 9-day detox successfully. This includes a comprehensive meal planner; an exercise plan with detailed descriptions; a schedule to follow; a chart for keeping track of your progress; and a place to record your experience. It contains absolutely everything you need to help kickstart your weight loss and make the necessary changes to start a whole new healthy life.
It's great on its own as a one-off detox, and is recommended to do this twice a year, but it is equally valuable as a precursor to continued weight loss with the Nutri-Lean system – a 30-day program to designed to create a new lifestyle of healthy eating.
IMPORTANT: If you did not already order it with the "Clean 9" program, make sure to order the "Nutri-Lean Program" by day 4 as you want to move right from the Clean 9 into the Nutri-Lean Program.


Aloe vera detox Clean 9 also comes with an unconditional 60-Day Money-Back Guarantee. You can try it, use it, follow the program for 9 days… and if you decide that it didn't work, or you didn't like it — you get your money back. And this guarantee is backed by the parent company – an international 30-year old established company with a solid track record in the heath and wellness industry.
So if you're ready to make a change and start losing the weight you want, then scroll down to purchase Clean 9 now. The Nutri-Lean Program is the second step to help us nutritiously modify our lives, our eating habits, and learn about good nutrition and what is good to eat. The booklet that comes with these programs alone is worth more than gold.
To learn about the Nutri-lean weight maintenance program, click here.
---
Aloe Vera Stores
---


Aloe Store Belgium
Aloe Store Canada

Aloe Store Holland

Aloe Store Luxembourg

Aloe Store Spain

Aloe Store UK

Aloe Store USA
---
Free Gift for You
Free e-book full of healthy recipes if you place an order using this site. Just send me a copy of your order confirmation, stating on which country site you placed your order, and I will send you your free recipe book.
Send me a mail to agewell@bluewin.ch
---
Top of Aloe Vera Detox


Back to Age-well.org
---