Anti aging Developments
Anti-aging developments - November 2010
---
age-well.org > Anti-aging Discoveries > Anti-aging Developments - November 2010
---
A Simple Meditation on the Breath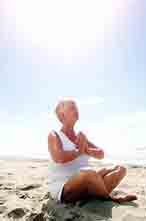 Anti-aging developments, November 30, 2010 -- If you are new to meditation this exercise is a great way to get started.
According to Dr. Marilyn Glenville, you should practice this exercise for five minutes twice a day, then extend it by five minutes every other day until you are doing around 20 minutes, twice a day.
Later, rather than concentrating on your breath, choose a word or phrase as your focus, or a positive image that you hold in your minds eye. Find a quiet place where you know you wont be distracted, and switch off your phones.
Sit on the floor, or use a chair if its more comfortable (but keep your feet flat on the floor). Close your eyes. Gently and slowly being to take deep breaths. Breathe in through your nose for a slow count of three and out through your mouth for a slow count of three.
Continue to do this until the long, slow breaths feel completely natural and rhythmical. Now concentrate on the flow of air past your nostrils as you breathe in and against your lips as you breathe out.
As thoughts come into your mind, dont ignore them instead, simply observe them and then let them go. This may seem hard at first, but the technique will get easier with practice.
(Anti-aging developments from Dr. Marilyn Glenville)
Stay Focussed to Stay Happy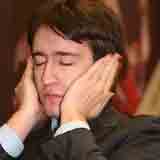 Anti-aging developments, November 30, 2010 -- Nearly half the time you're awake, your thoughts drift. And how often your mind wanders is a predictor of how happy you are -- new research finds that the more often you take yourself out of the present moment, the less happy you are.
So U.S. News & World Report suggests the following five ways to keep yourself in the moment and ultimately be happier:
Start the day with a focused task. Those who practice a little mindfulness in the morning have a better ability to stay focused throughout the day.
Exercise with mindfulness. You can add mindfulness to your workouts by paying attention to the sensations you are experiencing while you exercise.
Immerse yourself in a good book or movie. Just don't allow yourself to be distracted by a ringing phone or buzzing Blackberry.
Minimize multi-tasking. Force your attention back to the task at hand. Practice 5 to 10 minutes of daily meditation.
Those who practice regular meditation can stop their minds from wandering much faster than those who don't.
((Anti-aging developments from Dr. Mercola (Mercola.com), December 7, 2010, U.S. News & World Report November 11, 2010 )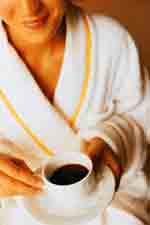 Anti-aging developments, November 29, 2010 -- A recent study shows that drinking at least half a cup of tea or coffee a day may lower the risks of developing a glioma -- an aggressive, hard-to-treat, and dangerous type of brain tumor.
So if you can't start the day without your favorite brew, you are on the right track! In fact, regularly drinking either beverage could cut the risks of developing a glioma by up to 34 percent.
Researchers believe that antioxidants found in both tea and coffee stimulate the activity of a protein that counteracts cancer-causing damage to our braincells.
((Anti-aging developments from Realage)
age-well.org > Anti-aging Discoveries > Anti-aging Developments - November 2010
---
Top of Anti-aging developments - November, 2010 Back to Age-well.org
---