Swine Flu Epidemic
Situation Report - January 2010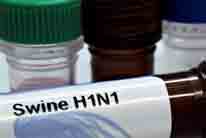 In the US there have been 241 deaths known to have been caused by the Swine flu virus since April 2009. In October 2009 President Obama Declared the H1N1Epidemic a National Emergency. The Government's timely reaction may have prevented the epidemic from proliferating. Recent statistics show that the siituation is improving, with hospitalisations and deaths decreasing. read their latest update here:
However there is no way to predict the course an epidemic of this nature will take and it is highly recommended to take the shot, especially if you are over 60. This should not be a problem in the US where supplies are not in short supply.
The Center for Disease Contro (CDC) analyzes the situation on a weekly basis and you can read their latest update here.
Predicted Development
If the virus follows the pattern of previous flu outbreaks it will continue to occur in different locations at different times, with recurrences two to three months after the first surge. The Center for Disease Control confirms that the vaccine is safe and that it is safer to have the vaccine than become infected with the virus.
Advice
Read the US H1N1 Situation Update if you live in, or are travelling to the USA. Otherwise read your government's advice or follow the advice of your physician or family doctor. or consult the The international Swine Flu situation report Information about the overall situation can also be obtained at the World Head Organization's Website.
---

For Answers to some Frequently Asked Questions about the H1N1 Virus
READ OUR FAQ.
---

TOP of swineflu
HOME to Age-well
---