Spearmint Milkshake
by Sue
(New York)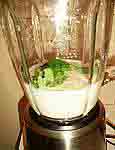 This Recipe is from the website http://www.tastierrecipes.com. It's a lot healthier than you would buy in the shops. Also the taste is sensational! You will not believe how good it is until you try it for yourself.


For TWO PEOPLE
Two cups of low-fat milk
5 fresh spearmint leaves
Half a banana (optional)
One tablespoon of unprocessed honey or stevia equiv.
A little icecream (optional)
As shown in the above pictures, add about five fresh spearmint leaves into blender with two cups or glasses of milk and blend for about one minute.
Strain out the small spearmint leaf fragments and put back into blender.
Note : Spearmint leaves can be eaten raw or cooked. The main thing is not to overdose on them. If your blender is 'super efficient', there is no need to use a strainer
.
Add honey and banana and mix in blender again until smooth consistency.
Add in a little icecream (optional) and blend a few seconds.