Roasted Red Peppers Stuffed w/Goat Cheese (D)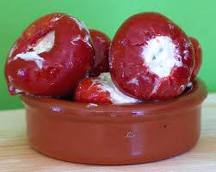 stuffed red peppers
Ingredients


6 roasted red peppers, skin removed
1/4 lb. goat cheese
12 pitted imported black olives, sliced
4 green onions, thinly sliced
1/2 tbsp. finely chopped fresh rosemary
1-1/2 cups yellow cornmeal for dredging
1/2 cup vegetable oil
Method
Make one lengthwise slit down each roasted pepper and remove seeds.
In medium bowl, mash cheese to soften, add olives, green onions, and rosemary. Divide into 6 portions and shape each portion into a cylinder.
Place one cheese cylinder into each pepper. Wrap the pepper around the cheese, overlapping the edges.
Roll stuffed peppers in cornmeal to coat well. Transfer peppers to a baking dish dusted with cornmeal. Cover and refrigerate until ready to bake.
Preheat oven to 400°F. Lightly coat shallow roasting pan with oil. Arrange peppers in pan and bake until heated through and cornmeal coating is crisp, 5 to 10 minutes.
Arrange on a serving platter and cut each into 4 slices.
Serves: 12
(Source: Vegetarian Times)