Oatmeal Pancakes from Cooking with Aloha
by Jean
(Costa Blanca, Spain)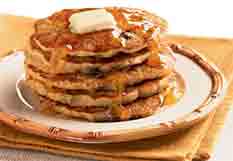 Delicious Oatmeal Pancake with lashings of maple syrup (I know we shouldn't, but!)
Ann Hall Every, the author of Cook with Aloha, has dedicated part of her site to healthy eating - thought readers would like this recipe for healthy oatmeal pancake, as you are always telling us that oatmeal is great for the heart.


Ingredients
1 cup quick-cooking (not instant) rolled oats
2 1/2 cups fat-free milk
1/2 cup whole-wheat flour
1/2 cup unbleached all-purpose flour
1/4 cup toasted wheat germ
1 Tbsp. sugar
1 Tbsp. baking powder
1/2 tsp. salt
1/2 tsp. cinnamon, nutmeg, or cloves
3 egg whites, lightly beaten
1 tsp. pure vanilla or almond extract
Canola cooking spray
Method
In a medium-sized bowl, blend together the oats and milk and let stand for 10 minutes.
In a large bowl, combine whole wheat flour, unbleached flour, wheat germ, sugar, baking powder, salt and spice. Mix well.
Add egg white and extract to oat mixture and stir together. Add to the flour mixture and stir until moistened but with small lumps remaining. Don't overmix. Let mixture stand in the refrigerator for 30 minutes.
Preheat a nonstick pan or griddle coated with cooking spray over medium heat. Working in batches, pour 1/4 cup batter for each pancake onto hot pan. Cook 3 to 4 minutes or until top starts to bubble and bottom is browned. Turn and cook 1 to 2 minutes longer, or until golden brown.
Makes 18 pancakes.
Per pancake: 65 calories, less than 1 g. total fat (0 g. saturated fat), 11 g. carbohydrate, 4 g. protein, 1 g. dietary fiber, 159 mg. sodium.
Gosh they are great - I could eat the whole 18 myself - only kidding.