Lower Back Pain
Physiotherapy to treat Lumbago
---
age-well.org > spinal column and back pain > Lower Back Pain
---
by Michelle Botes
I've been suffering from lower back pain, also known as lumbago, from the age of around 16. The cause of my chronic back pain was an extremely hard and awkward fall on my coccyx that caused major shock and damage to the discs in my lower back. I've been visiting physiotherapists, chiropractors, osteopaths, acupuncturists and massage therapist more times than I care to remember. I've tried many different treatments, each with their own level of (dis)comfort and effectiveness.
In a series of articles, I will explain the differences between the approaches each health care professional takes, their treatment and effectiveness thereof and, in some cases, why it is not recommended. I am, by no means, a medical doctor - and my advice is based on personal experience and many years of research, reading and speaking with my therapists, doctors and other chronic back pain sufferers. Each back pain sufferer has unique circumstances that contribute to the causes and symptoms of their condition and should be dealt with in collaboration with medical professionals.
Physiotherapy has always been, and will continue to be, the first treatment I consider every time my lower back pain becomes unbearable. Incidentally, it is also the first treatment most doctors would recommend and prescribe. Physiotherapists are trained to consider a multitude of factors when approaching treatment for back pain. Movement, muscles, bones, tendons and ligaments are all considered before a physiotherapist will start treatment.
Massage for Lower Back Pain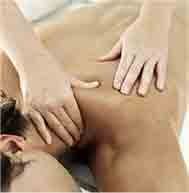 Many people I have spoken to over the years perceive physiotherapists to be nothing more than glorified massage therapists. This cannot be further from the truth. Although massage may be part of the treatment, not just any old back-rub will do. Physiotherapists spend years learning the intricacies of back muscles, where they lie, how they move and what their function is. Applying pressure to the wrong muscles while a patient is in pain could cause more damage and increase pain.
A physiotherapy massage could be uncomfortable at times, but the aim is always to alleviate pain in the long run.
Muscles in the lower back contract in order to protect the affected disc, ligament or tendon. Sometimes muscles contract due to over use and these contracted muscles become painful. The purpose of a massage is to increase blood flow to the tight muscles. Once oxygenated blood reaches the muscle, it relaxes and could bring forth some pain relief. This will allow the physiotherapist to use a different technique or method to reach affected, underlying areas.
A physiotherapist will usually start with some massage in order to loosen the muscles before s/he start using other therapies to reduce pain. Side effects may include some bruising, if the patient bruises easily and some tenderness for a day or two after a massage.
Electrotherapy for Chronic Back Pain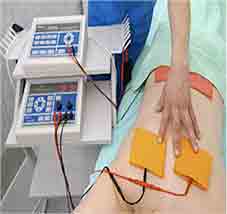 There are many types of modalities that fall under electrotherapy. Electrical muscle stimulation or transcutaneous electrical nerve stimulation (TENS) are popular amongst therapists.
The basic principle of these therapies is to increase blood flow to the affected muscles, relax tense muscles and muscle stimulation.
Many studies around the effectiveness of electrotherapy for lower back pain have been conducted and, although there is much controversy amongst researchers, most physiotherapists have been using this treatment with success.
The therapist will place two or more electrodes on the skin around the painful area and send a series of electrical impulses that will contract the muscles around the areas surrounding the electrode. The electrical impulses are set to contract and release, creating a pump action in the muscles. This has proven to reduce pain, mainly due to improved blood flow to the affected area. The treatment generally lasts 10-15 minutes and, even though the initial sensation of the electrical currents could feel uncomfortable, you get used to it quite quickly and are able to relax and feel the benefits.
The most common side effect of this kind of therapy is skin irritations or rashes on the areas where the electrodes were attached to the skin.
Manipulation for Back and Hip Pain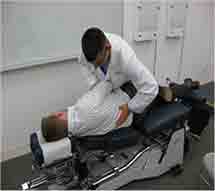 This technique is normally associated with chiropractors, but one can occasionally find a physiotherapist that is trained to perform manipulation. Manipulation is performed in order to reduce mild pain and readjust the spinal alignment. The therapist will use his/her hands and other tools in order to apply pressure to the lower back. The result of this pressure is one or multiple 'clicking' sounds.
If a patient has never experienced manipulation before, the first time could be a bit frightening, as the patient, in pain, is made to lie on his/her side and the lower part of the spine is being 'twisted' in order to manipulate the area. It is an uncomfortable position and the twisting motion performed by the therapist could seem a bit rough.
Manipulation should always be performed by a trained professional, as wrong manipulation could cause more damage. Serious side effects are rare and the most common side effect is discomfort or increase in pain in the lower back.
Exercises for Lower Back Pain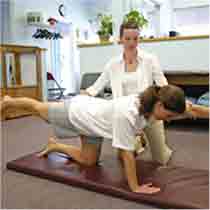 By far the best cure for lumbago is exercise. This may sound counter intuitive, but the stronger your core muscles are, the less your back pain will be. Most people mistakenly think that core muscles refer only to stomach muscles, when in fact, core muscles include hamstrings, glutes (buttock muscles), lower abdominals, upper abdominals and back muscles.
Physiotherapists will, nine times out of ten, prescribe exercises to strengthen these muscles and provide you with some stretching exercises. Any of them will tell you that regular exercise and general muscle tone is not only good for health, but good for your back too. You will be given a few basic exercises to start off with and will steadily increase in difficulty rating as you progress through your treatment. The initial exercises may seem like small, silly movements, but it is aimed to strengthen your deep lying stabilizing muscles in your core.
You might feel a bit stiff and sore for the first few days, but the long term benefits far outweigh the initial discomfort. It is important to continue doing these exercises as often as you can, as they will maintain a healthy foundation and reduce the re-occurrence of your pain.
Physiotherapists are wells of information when it comes to low back pain as they have a great deal of experienceas to draw from. An estimated 75-80% of the world population suffers from back pain at one time or another in their lifetime. And there is no doubt that those lumbago sufferers are the clients that these therapists treat most often.
Whether your back pain is acute or chronic, it will be worth your while visiting a qualified physiotherapist to discuss what approaches you can take to a pain free life.
---
Sources for Lower Back Pain
Cannone, Jesse . "The 7-day back-pain cure." Innovation Press. 2009http://thephysiosite.com/types-of-physiotherapy-that-help-lower-back-pain.php
http://www.articledoctor.com/back-pain/exercises-for-back-pain---physiotherapy-exercises-for-back-pain-2572
http://www.backpainexpert.co.uk/Physiotherapy.html
http://www.lower-back-pain-toolkit.com/
http://www.medicine.ox.ac.uk/bandolier/booth/painpag/Chronrev/muscskel/CP093.html
http://backpain.ygoy.com/conservative/electrotherapy.php
http://nccam.nih.gov/health/pain/spinemanipulation.htm
Pictures: http://www.clinique-le-noirmont.ch/data/images/massage.jpg
http://hotelswieradow.pl/images/Prad.jpg
http://jbutlerdc.health.officelive.com/images/l%2520side%2520post.jpg
http://www.wellingtonphysiotherapy.ca/images/physio.jpg

---
age-well.org > spinal column and back pain > Lower Back Pain
---
Top of Lower Back Pain Home to age-well.org
---