How to be Happy
12 Ways to Improve Your Mood
---
age-well.org > self-development > how to be happy
---
"The Constitution only gives people the right to pursue happiness - You have to catch it yourself." - Benjamin Franklin
Improving Your Mood is an Ongoing Project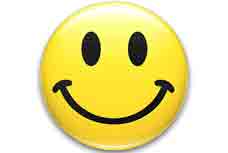 Stuck in a rut, lonely, or feeling that life is passing you by? Want some practical advice on how to be happy?
Doing some of these things will give you a happy glow that you have achieved some concrete goals and this alone will improve your mood.
---
1. Be Active
Being inactive can be a vicious circle robbing you of much needed energy. Increasing your activity level will increase your energy.
Walking is the best exercise for your mind as well as your body. It is even more beneficial to walk outside, preferably in the morning. Also sunlight is good for your bone health.
Working out, walking briskly or jogging are all activities that can release endorphins, the feel good hormones. Sexual pleasure can do the same thing. Sports and activities such as dancing can also be a great way to meet people as well as keeping you healthy and happy.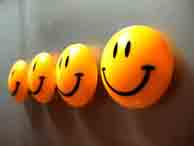 2. Nurture Your Contacts
Keeping in touch with family and friends can make you a happier person. Don't let good friends drop because they or you have moved and the friendship is not as convenient as it once was. Spend the time and money to visit your parents, siblings and children as regularly as you can.
Reach out and make new friends, even if it is not as easy as you get older and maybe have left the workforce.
If traveling is difficult or too expensive keep in touch with email and programs like skype where you can see and well as talk to your loved ones.
3. Keep Your Environment Calm
Keeping the places where you live and work clean, orderly and serene can help to increase your well-being and promote creativity. However, or are finding it difficult to keep on top of clutter, don't beat yourself up about it. If it bothers you, do something about it. If you find it hard to do this on your own, and can afford it, hire someone to help you sort it out.
However, if you are a person who feels more comfortable or works better in a more chaotic environment, you will have to do what is right for you. It is often all about what you've been used to.
If your environment is a little disordered and it really doesn't bother you, but other people are being judgmental, ignore them, as long as it is not cramping your style and interfering with your creativity. It is your environment and you should live as you wish.
4. Cleanliness is Next to Godliness
Sorry about the sub-head, I was just trying to grab your attention.
Disorder is one thing, however, cleanliness is another. Dirt and grime can be a breeding place for germs and dust and fluff can provoke allergies.
Keeping your environment clean and sweet smelling will make you feel happy to be home.
Hire someone to come in and help for a few hours if you can't manage to get on top of the situation.
5. Don't let Unpleasant Tasks Pile Up
Many of us dislike housework and especially paper work. However keeping your home environment tidy, serene and cozy is a way to promote happiness and keeping on top of your paperwork is essential.
Make sure your tax, insurance, and other issues are in order, your bills up to date and that everything is in order and filed away and easy to locate in case you should need help.
Make a to-do list and cross off each chore as you complete it. This will give you a feeling of accomplishment and great satisfaction and is a good example of how to be happy.
6. Listen to Music
Music can be a perfect mood enhancer and can enrich your life. Organize your CDs and make sure you take good care of them, always putting them away after use and cleaning them whenever necessary. Put the radio on when you wake or invest in a portable radio or a radio alarm so you can wake up to music or even listen to the news while lying in bed.
7. Enjoy Your Rituals
Enjoy the rituals of going to bed and getting up, having a hot shower or a warm bath, taking your make-up off and putting it on again. Take your time and enjoy what you are doing. Give yourself a beauty or spa treatment once a week and smooth skin lotion or cream on your body before sleeping and especially after having a bath or shower.
Once a month smother your skin and hair with olive or almond or argon oil cover the bed with clean towels and sleep without taking the oil off. Wash off with warm soapy water in the morning, soak in the bath and then rinse under the shower and dry with a soft towel. Looking after yourself will make you feel good.
8. Eat Well
Eating well can help boost your happiness by making you feel healthy and satiated. Besides eating food that is good for you, make sure you eat food that you like. Quality food that has been prepared well can give you great pleasure and make you happier.
Eating well can also improve your health and help to prevent age-related conditions so that is another reason to eat well and be happier.
9. Learn Something New
Learning new things can teach you how to be happy as well as increasing your knowlege.
Think of a subject that you wish you knew more about and do some research on the internet or visit the local library and pick up a book about it. Plan a trip and learn a new language with a view to using it on your next vacation abroad.
Learn more about the Internet, how to better use your mobile phone or your digital camera. Enlist the help of your children or grandchildren who will often understand these things better than we do and will enjoy showing off their expertise.
10. Travel is Good for the Soul
If you are surrounded by people who are pessimistic and always complaining, be the odd person out and set a new trend by smiling and pointing out the good things in life.
Travel meeting new people seeing new things and learning about new cultures, eating new foods all make you grow as a person and appreciate the world we live in.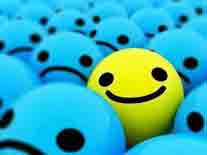 11. Smile
And lastly act happy and smile even if you don't feel like. This is specially important if the people around you seem cold, surly and unfriendly. Somebody needs to break the ice.
As the song says Smile when your heart is breaking. Research shows that even an artificially induced smile boosts your mood.
And if you're smiling, other people will perceive you as being friendlier and more approachable and many will return your smile giving you genuine feel-good vibes.
12. Laugh
Knowing how to laugh at yourself and the comedy of life are examples of how to be happy. Laughing is a great stress reliever and good for your health. It is infectious and can make others join in so it's good for everybody.
Conclusion
Life is not fair and we are all dealt different hands and have different issues to deal with.
There are some people who seem to instinctively know how to be happy. Maybe they have been born with a happy disposition, or they have been born with a silver spoon in their mouths, as the old saying goes. Life gives them everything they need and they don't seem to have the same problems that many of us face on a daily basis. Often they are just happy souls who are at peace with their world and content with their lot.
Others have to work a little harder to keep happy and content.
Some people believe that this is karma, that some of us are old souls with less to learn and nearer to nirvana. Souls who know how to be happy and content and at peace.
Whatever you believe all of us are striving to achieve happiness. By working at being positive and being happy, you will increase the happiness of those around you
---
age-well.org > self-development > how to be happy
---
Top of How to be Happy Back to age-well.org
---