Slow Cooker Beef Pot Roast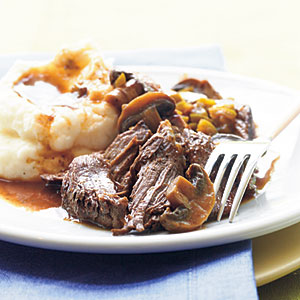 This slow cooker beef pot roast is ideal comfort food served with mashed potatoes to soak up the sauce
Pair this home-style favorite with mashed potatoes to soak up the sauce. Leftover meat makes great hot roast beef sandwiches the next day.


Prep Time: 4 minutes
Cook Time: 7 hours, 7 minutes
Yield: 6 servings (serving size: 3 ounces beef and 1/2 cup vegetables and sauce)
Ingredients
1 (8-ounce) package presliced mushrooms
1 (8-ounce) container refrigerated prechopped green bell pepper
Cooking spray
1/4 cup plus 2 tablespoons ketchup
1/4 cup water
1 tablespoon Worcestershire sauce
1/2 teaspoon black pepper
1/4 teaspoon salt
2 pounds boneless shoulder pot roast
Preparation
1. Place mushrooms and bell pepper in a 3 1/2- to 4-quart electric slow cooker coated with cooking spray.
2. Combine ketchup and next 4 ingredients in a small bowl, stirring until blended.
3. Heat a large nonstick skillet over medium-high heat. Coat pan and roast with cooking spray. Cook 3 minutes on each side or until browned. Place roast over vegetables in cooker; pour ketchup mixture over roast. Cover and cook on HIGH for 1 hour. Reduce heat to LOW; cook 6 to 7 hours or until roast is very tender. Serve vegetables and sauce over roast.
Nutritional Information
Calories: 228 (31% from fat)
Fat: 8g (sat 2g,mono 3.1g,poly 0.1g)
Protein: 31.3g
Carbohydrate: 7.4g
Fiber: 1.1g
Cholesterol: 89mg
Iron: 4.2mg
Sodium: 397mg
Calcium: 21mg
Source: My Recipes websit from Cooking Light, Southern Living