Has anyone using this site tried the raw food diet, what is it exactly and what are the benefits?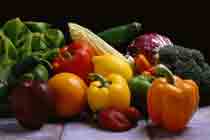 Vegetables make up the major part of a raw-food diet
I'm retiring shortly and finding it hard to keep going in the meantime. I'm tired all the time and lacking in energy. I'm also overweight and find it hard to stick to an exercise program. I've been thinking I need to change my lifestyle as i age and your website has inspired me to look into my diet and think about trying to exercise more, but it is hard to get started. I've been hearing a lot about the raw food diet and wonder if you or your readers know anything about it and would recommend it?? What are the benefits and does it give you all the vitamins and minerals you need?